Tiraspol, 17 November. /Novosti Pridnestrovya/. Pridnestrovie's foreign trade turnover amounted to over $1.6 billion over the 11 months of 2015, decreasing by almost 26% as compared to the same period in 2014. According to the State Customs Committee, Pridnestrovie has had trading relations with 86 countries of the world.
Pridnestrovie's exports have declined by 17% this year, making up $561.6 million. The exports have decreased by 30% as compared to those in 2014 (from $1,480.4 to 1,041.7 million).
The proportion of exports and imports in the overall structure of turnover was 35% to 65%. Pridnestrovie's negative trend balance amounted to $480 million in 11 months.
Now let us proceed to the relative share of different countries and regions in the distribution of Pridnestrovie's exports. Based on the division CIS countries/non-CIS countries, almost 66% of exports accounted for the CIS, and 34% for non-CIS states.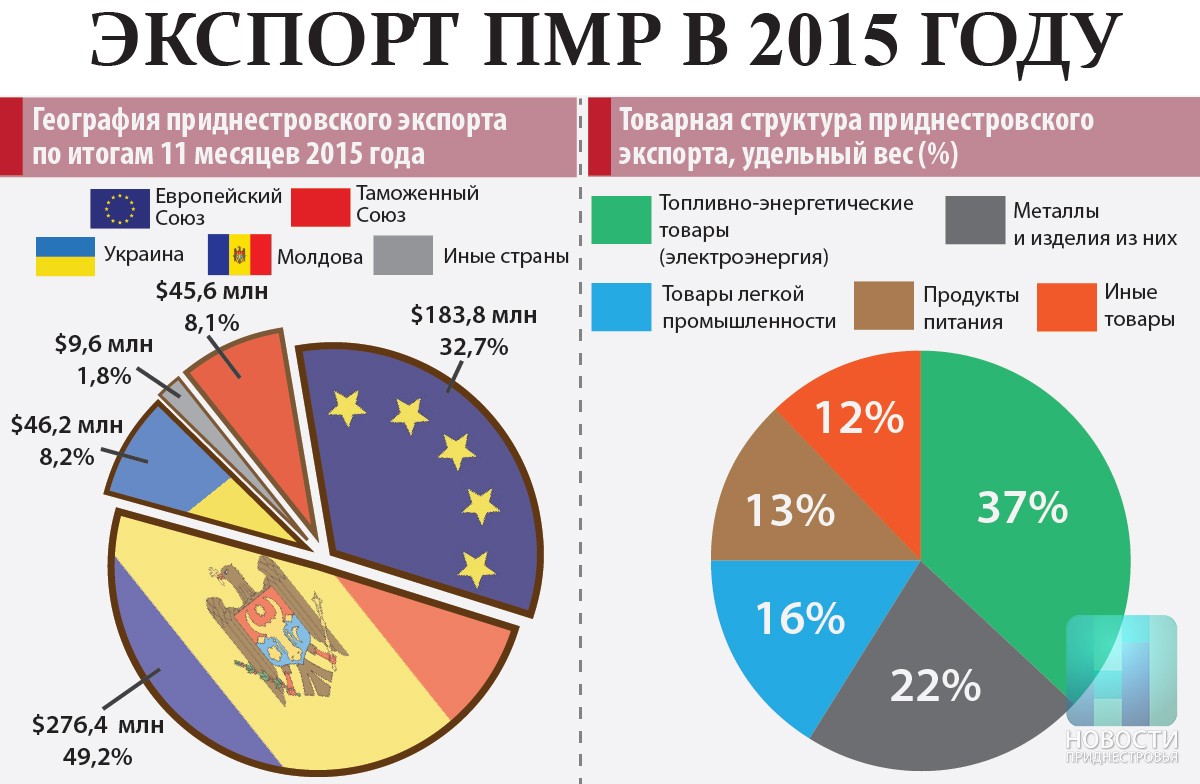 Speaking about the Customs Union and the European Union, 8.1% of exports ($45.6 million) went to the CU, and 32.7% ($183.8 million) to the EU. As regards the Customs Union, the vast majority of production (nearly 95%) accounted for Russia as before. The five countries of the EU are the major importers of Pridnestrovian goods: Romania, Italy, Germany, Poland and Slovakia.
A very substantial role in Pridnestrovie's exports still belongs to Moldova and Ukraine. Almost a half of Pridnestrovie's exports in the 11 months of 2015 accounted for Moldova ($276.4 million), and 8.2% ($46.2 million) for Ukraine.
As it can be seen above, the CU, the EU, Moldova and Ukraine are the main foreign trade partners of Pridnestrovie - almost 99% of Pridnestrovie's exports account for them. It should be noted that Pridnestrovie has positive trade balance with Moldova and the EU.
A few words on Pridnestrovie's imports. The unconditional leader in this sphere is Russia with over 50% of supplied goods. It is recalled that Russia supplies natural gas to Pridnestrovie.
A considerable role in Pridnestrovie's imports also belongs to Ukraine, Moldova, Belarus, Kazakhstan, Romania, Germany, Italy, Poland, Lithuania, Slovakia, China and Turkey.
Pridnestrovie's main export articles still include fuel-energy goods (37% of all supplies), metal and metal products (22%), as well as light and food industry production (16% and 13%, respectively).
Pavel Uvarov.